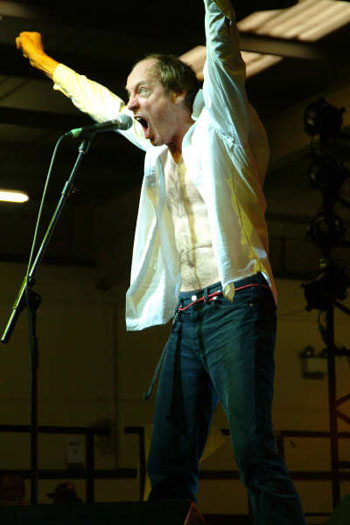 America has Jonathan Richman; we got John Otway. A successful thirty-year career as an unsuccessful singer/songwriter; he's to be envied. He bounced out of Aylesbury and onto the top of his guitar speaker (which he promptly fell off) while bashing out "Cor Baby That's Really Free" with erstwhile partner Wild Willy Barrett and sneaked into the Top 30 (produced by Pete Townshend) as 1977 jerked to its end. And that was it as far as "hits" were concerned; he did masochistic electropunk ("Headbutts," 1981), pained five-and-a-half minute ballads backed by a 100-piece orchestra ("Geneve," 1978), undercut Tom Jones twice in the nineties with individualistic covers of "Delilah" and "Green Green Grass Of Home" and even nearly got a second Top 40 hit with "DK 50/80" - in collaboration with two-drummer Oxford punk band Ken Liversausage - which sounds like Julian Cope being run backwards through sand dunes in Dunwich.

But nothing hit as such, until he decided in 2002 that he'd quite like a second proper hit to mark his 50th birthday. How his fanbase put this into action is well documented in his Greatest Hits compilation of the same year (which characteristically has subsequently gone out of print) but it's worth noting that the notion of marrying his chemistry lesson as sexual metaphor poem "Bunsen Burner" to the tune and beat of "Disco Inferno" originated with one Barry Upton, formerly a member of a later edition of the Brotherhood of Man and later producer of Steps and also Otway's occasional keyboard player. It was maybe the most welcome and applauded of all British singles chart hypes and it got him back into the charts - all the way to number nine, some 18 places better than "Really Free" had managed - and back onto TOTP in time for his half century.

"Bunsen Burner" is utterly charming and easily one of the most good humoured of all British hit singles. "I'm an ALCHEMIST baby!" he groans excitedly in his Home Counties Gone West voice at the beginning and proceeds to do every chemistry double metaphor in the book (although the poem was originally written to help his daughter with her chemistry lessons at school) - "check out what's in the test tube baby," "feel the heat of the naked flame" etc. In the middle eight there's an exciting conjunction of electronic white noise and "BURNIIIIIIIIING!" female backing vocals and his increasingly febrile intonation of the hook "Science tells us love is just a chemical reaction in the brain" is delivered in tones of John Noakes eagerness. "I know what I'm doing, I am a chemist," he grins just before the record is curtailed by an explosion of covalent bonding. When's the third coming?