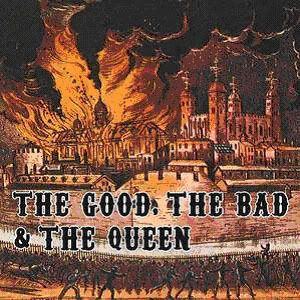 10. ELVIS PERKINS: Ash Wednesday
The sanest and saddest musical response to 9/11 we are likely ever to hear; Perkins faces his dual loss squarely, can hardly bear doing it at times and it's not a record for rabidly repeated listening. Still it hovers hymnal as a reminder that something can often come from the loss of everything – and on the deeply spiritual closure of the aptly named "Good Friday," acknowledgement and resolution are serenely achieved.

9. THE KEITH TIPPETT TAPESTRY ORCHESTRA: First Weaving – Live At Le Mans
Recorded back in 1998 but purposely not released until now, and inevitably carrying extra poignancy following the losses of Elton Dean and Paul Rutherford, Tippett's third large ensemble record is happily his happiest and widest-ranging, from Stimmung clicks and sighs through "Lili Marlene," "Let's Face The Music And Dance" and Beat Boom backing vocals through to post-bop, freeform scrums and contemporary classical ruminations. All the more reason (even more so given the loss of another of my childhood heroes, Mike Osborne, this year) to be grateful for the new wave, as delineated by the Fulborn Teversham, Led Bib and Fraud tips of the hopeful iceberg, which proves that another generation has seized the baton and fucked the airplay.

8. KYLIE MINOGUE: X
X for love and kisses, X for the beginning of her tenth life, XX for coming back from where she was sent and deciding to dance and be happy in ways Madonna could never plan, XXX for "The One," XXXX for adventure and mischief making X the first great non-compilation Kylie album, XXXXX for "love me, love me, love me," XXXXXX for big red futures of us.

7. BROKEN SOCIAL SCENE PRESENTS KEVIN DREW: Spirit If…
"Farewell To The Pressure Kids" indeed; the most florid, damn you first two minutes of any album this year signified immediately rediscovered freedom. Happily the "solo" project concept seem to have rekindled Broken Social Scene's slightly frayed sense of community; although Spirit If… is nominally a Kevin Drew album and the songs are his, pretty well all of BSS turn up throughout and sound thoroughly revitalised, as do the cunningly placed cameos, most remarkably the rebirth of J Mascis on "Backed Out On The…" And Ms Feist gives a career best (thus far) vocal performance on "Aging Faces/Losing Places"; a Reminder to those who discovered her the other way of where she came from and how true ties remain strong, even at a geographical distance.

6. AMERIE: Because I Love It
No other pop star this year sounded as though they loved doing it more fervently; the best pop/R&B album in ages found Amerie coming of age and daring to be adventurous; no one did the Human League better this year than she did on "Crush," "Gotta Work" remained a supreme anthem and the sentiments of the gorgeously fluttering "Somebody Up There" proved to be true.

5. LULLABYE ARKESTRA: Ampgrave
Not only the year's highest placed Canadian release, but also the highest placed entry to have been released in 2006; it has yet to see an official UK release but hearing and feeling it in Chippy's proved a revelation. Comprised of a nucleus of Do Make Say Think drummer Justin Small and bassist Katie Taylor, they roared out genuinely soulful, passionate and honest entreaties like a bulldozer raucously razing the slums of indifference; indeed one of the key songs is entitled "Bulldozer Of Love." Assisted by horns which alternated between minimalist charts and free honks and squeals, the righteous whole came across like a cross between Rocket From The Crypt and Coltrane's Ascension. One of two consecutive entries in this list which you should cross oceans to obtain if necessary.

4. SALLY SHAPIRO: Disco Romance
Likewise, this beautiful pop album only really exists as a full-blown album in its Stateside form, including as it does indispensable songs like "He Keeps Me Alive" and "Skating In The Moonshine" unavailable on the European edition. Hesitant Nordic indie voice meets a new Pet Shop Boys world ready for rebuilding; swimworthy beats, gorgeous chord changes, and yes, he was in her way at the supermarket and they end up suspending time with their new found love. How does Sally Shapiro, with her relatively minimal sales, count as pop and the multimillion selling Katie Melua not? It helps to think of "pop" as synonymous with "protect other people."

3. BRITNEY SPEARS: Blackout
This, however, is the best pop album of the decade thus far; however far she wandered off other paths, Britney was uncannily on target for raising the pop bar. In addition, her sundry vocal twists, deprecations and distortions worked in her favour since even at her angriest she was happy to remain in the electric red playroom. Where "Sexy No No No" descends into something I could easily imagine Tom Jones singing, the likes of "Ooh Ooh Baby" and "Radar" are truly worthy of Elvis, "Heaven On Earth" is seamlessly perfect, and even the closing ballad zigzags in ways which are simultaneously poignant and pungent. Most pop operatives worth their salt and pepa will spend most of 2008 trying to better Blackout.

2. THE GOOD, THE BAD AND THE QUEEN: The Good, The Bad And The Queen
1. RACHEL UNTHANK AND THE WINTERSET: The Bairns

Land too poor to be taxable, or they cannae get any money out of this place? The original Saxon meaning of the word "unthank" and Alastair Gray's interpretation of same; in Lanark, he renames his fluctuant fiction of Glasgow as Unthank. And Lanark in turn is about someone who cannot come to terms with the world as it is, as opposed to the world as he would like to see it; he drowns himself (out of boredom!) but the spirit survives and somehow he finds himself resurfaced in a future.

Listening to these two portraits of Britain in 2007 it is hard not to think about floods and rebirths and indeed never-ending murals being painted in the interiors of derelict churches; a ship is metaphorically sinking somewhere, and here are two modest proposals for refloating; one from the formerly beautiful South, the other from the to be beautiful North. Together they tell their year's most compelling musical story; all the more captivating because not too many people took great notice of either at the time of their release…their spirit has seeped steadily and patiently throughout the intervening months and they are justified in turning around at the threshold of 2008 and saying they told us so. Theirs is a story of historical decay and prospects for renewal; their apparently calm surfaces conceal blades of violence, pillows of tears (in both senses) – but both resolve to continue, to rebuild, to live once more.

Few could listen to The Good, The Bad And The Queen and not have it confirmed in their minds that Damon Albarn has turned out the most creative and vital of all musicians shovelled together under the name of Britpop; not quite a 1967 child, he has nevertheless maintained and developed that same fleeting, feathery spirit of adventure into a permanent fixture. Some chuckled at what looked on paper like an updated Ronnie Wood jam session; Paul Simonon, Simon Tong and Tony Allen did not appear a personnel listing to set hearts pacing in triplicate…but they forgot improvisation in these people, and although the album is recognisably the work of the same man who slowly crumbled throughout Parklife and The Great Escape (not to mention the under-visited dungeons of Think Tank) and then slowly found a new, yellower solution in Demon Days, its songs sound constructed from the bottom up; both rhythms and melodies seem to stem from Simonon's bass in the first instance – and how good it was to hear that "Guns Of Brixton" rumble in full flight again – while Allen's subtly present and never predictable drums encourage fluidity, avoid group stasis. Both leave Albarn's keyboards and Tong's guitars to decorate, embellish, flourish and sink as required.

The record wasn't really a requiem, even though Albarn's voice sounded throatier and more beaten than ever before; it acknowledged the damage of the war, the sundering apart of London, but Albarn examined the debris both pathologically and emotionally – and this is where he exceeds Burial in that he is able to fit the distant whispers and semi-submerged whiplashes into a context which bolsters their significance rather than using them as easy signifiers. Whereas Burial observes from a hilltop, Albarn seems ready to dive in at any given moment to start salvaging. So we receive reminders of a slightly shinier path; the shattering and shattered reappearance of Emperor's Gate from "For Tomorrow" a third of the way through "Nature Springs," the exhausted retreat into swearing on "Behind The Sun," the terrifyingly calm hysteria of "Herculean," the latest of Albarn's great elegiac epics. But the climax of liberation comes with the astonishing titular closing track, with its increasing intensity, volume and concentration where the group sound as though they are manfully winding up the biggest of levers to kickstart music back into life; finally the sun materialises through the grey slate as they rock as though they are the first and last people to do so. It is a moment of true awe; restoration and reincarnation.

Meanwhile, in the northeast, there is quiet; four young women who resemble the Brontës so much that their front room appears to be the real ghost box. Unlike the cynical and lazy recycling of sampled clichés which constitutes most of the output of the capitalised Ghostbox, everything on The Bairns was unavoidably human generated; piano stools creak, percussion when needed is provided by the steady stamp of a high-heeled foot on boards of wood; and although The Bairns is the Winterset's second album it sounds to me like the reopening of the old to begin something new. It confirms Newsom's Ys. to be the collegiate busman's holiday it really is; almost alone in British music this year, it did not shout to make itself heard. It just sat there, patiently, not especially drawing attention to itself, waiting for ears and hearts to find it.

Further, given their Geordie origins, The Bairns is the album which I secretly hoped Girls Aloud would make; acoustic, dreamy and nightmarish in roughly equal proportions, taking its time, seductive but rationalist. Few tracks have had as much impact on my ears this year as the opening seven minute plus "Felton Lonnin," an adaptation of an old Tyneside nursery rhyme with disturbing undercurrents of implied violence, which sways back and forth with its sad refrain, its unearthily beautiful chord sequence and the strings which ellipse into its second half; its implications going far beyond music itself.

There are location solo vocal fragments (including a startling, if brief, take on Will Oldham's "A Minor Place"), utterly hypnotic setpieces like the encroaching minimalism of "Fareweel Regality" which turns into a circular but intense assertion of the vitality of community and togetherness or the astounding drone of "I Wish" with Belinda O'Hooley's deliberately discontinuous piano solo which makes the track something which could have come straight from Keith Tippett's Ark, and even kind lunges at something approaching pop in the remarkable "Blackbird," the best song about the joys of the mechanics of writing and performing music since Natasha Bedingfield's "These Words." The final resolution of "Newcastle Lullaby" finds voices and instruments winding with happy ethereality around each other in a systems roundelay, gradually dissolving into electronic signals and bleeps – you see, there is a future! – before coming to rest on a solitary, satisfied "sister sleep."

But the deciding factor which convinced me that this was 2007's best album was their reading of Robert Wyatt's "Sea Song." As regular readers will know, "Sea Song" is to me virtual holy writ, and musicians mess with it at their peril (Tears For Fears, go and stand in the corner). But Rachel Unthank and the Winterset take six glorious minutes to make the song matter in their old world, with a piano which sounds as old as the trees which helped make it, and instead of Wyatt's small battery and wineglass Rachel uses her foot to mark the beat. June Tabor springs to instant mind, inevitably, as do Shirley and Dolly Collins not far behind, but their voice is their own, and their reading is both truthful and personal – the little cue from O'Hooley's piano for Becky Unthank's vocal to return for the final verse is priceless, the new middle section inspired, and it is revealed as the diatonic folk song it always was and yet as something I had not heard before. Any musician capable of doing that has to be in a rarefied world of greatness, and in The Bairns I hear promises of genuine greatness. The sky outside is grey and unstable, but the sun persists in our hearts nevertheless, and all the more.