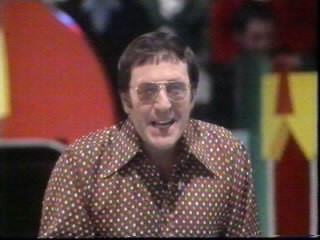 Possibly the nearest that seventies British mainstream comedy-but-with-music got to its own Finnegan's Wake, this song began life as a huge Continental avant-dance hit – "Prisencolinensinainciusol" by Italy's own Gainsbourg, singer/writer/comedian Adriano Celentano, much played on Luxembourg and in knowledgeable clubs but not a chart hit in Britain, a deliberately mangled, semi-rapped exercise in Italianoinglese which stands somewhere between "Subterranean Homesick Blues" and "He's Gonna Step On You Again" with a lead guitar going systematically berserk in the right channel and an enthusiastically uncomprehending chorus of backing singers.

For reasons long since submerged, somebody at Pye Records decided that it would be a good idea to do a "British" cover version, and assigned the task to Mike Reid, who at the time of his untimely passing this summer was best known as Frank Butcher in EastEnders but then was still an up and coming cheeky Cockney comic who looked inpatient to escape the frilly shirt/bowtie identity parade; he was perhaps best known in the seventies for his intermittent stewardship of the children's TV game show Runaround in which he made no secret of his contempt for both contestants and audience ("Migraine, MIGRAINE!" he would howl when the cheering got too fervent). In 1975 he even scored a top ten hit with his Cock-er-nee update of "The Ugly Duckling" (another result for Junior Choice).

But the re-Anglicisation which emerged as "Freezin' Cold In 89 Twoso" is if anything even stranger than Celentano's original. The lead guitar here is noticeably more polite, mainly sticking to reasonably funky chordalities, but the "Magic Fly" synths seem ready to suck all of the participants out into a parallel asteroid belt. Meanwhile Reid's hoarse Stepney hugeness belting out frankly indecipherable lyrics ("When I sing the toon I call Mrs Mangle and I hurry maybe for a cuppa sometime" is a completely uneducated attempt at the first line, and the second - "Brrrrr chickens in my head a-keep the cold hold baby Suzy yeah Little Joe!") suggests what might have happened if Jimmy Pursey had been kidnapped at an impressionable age, taken to Manchester and pressganged into joining the Happy Mondays, a feeling enhanced by his occasional asides of "Little Joe - right on!," his dip into cabaret/pub singing in the final chorus and the inevitable insertion of his then catchphrase "TRIFFIC!" (there was even a Triffic chocolate bar in brief existence). It gives the impression of some very peculiar purple fluid having been poured into the barrels round the back of the Wheeltappers and Shunters Social Club and is the seldom acknowledged accidental surreal masterpiece of its age, flapping awkwardly between Pete and Dud's "The L.S. Bumble Bee" and Alexei Sayle's "'Ullo John, Gotta New Motor?" He ends by attempting to join in with the closing harmony chorus but they are out of his range so he instead offers impersonations of incipient constipation before breaking into fits of sinister giggles to fade. The man is much missed.